As we mark the last day of #16DaysOfActivism against violence of women and children, we are proud to feature one of IPPF's finest youth leaders in Reaksa Rom, youth advocate from the Reproductive Health Association of Cambodia (RHAC). Together with other youth leaders and volunteers in the region, Reaksa has been actively supporting SRHR and advocating for meaningful policies and changes especially in ending domestic violence and rape among women. Reaksa has been actively educating and volunteering for SRHR-related actions since she was 16. Today, she's actively providing leadership to various youth committees and passionately represents both RHAC and Cambodian youths in many national and international forums and gatherings.
IPPF-ESEAOR recently spoke to Reaksa and here is her story:
"I was born and raised in a very conservative city of Siem Reap, where many adults and young girls wrongly think that sexuality education is a topic of obscenity and immorality, and that such should not even be discussed. I've even heard people from my own family saying things like 'it'll be so funny to lodge a report to the police of being RAPED by your own husband while you're married.'
Reality check: IF THERE IS NO CONSENT, THEN IT IS RAPE - no matter what the circumstance are or who the other person is to you.
Growing up surrounded by such environment was not easy. I felt upset on how people could (even among women themselves) be so discriminatory against women. I saw how they 'objectify' women like forcing sexual intercourse in a marriage. This is RAPE as it is done without consent. This is clearly sexual violence that can lead to other forms of domestic violence – physical, mental, emotional abuse, etc.
And the sad thing is that many women are unaware that they are subjected to a form of abuse and violence.  For many of them, they would rather keep it secret as if this is the right thing to do.  Speaking up is considered embarrassing and will only bring shame to their person.
I knew that there is something very wrong in this situation. So, then I decided to know more about gender and sexuality. All my life, I want to be involved in something that brings positive change.  There is that burning desire within me, urging me to act and make a difference.  And I realized that I can – through the power of information.  So I started informing people that discriminating women is wrong; that their traditional belief of keeping quiet will only perpetuate violence against women.  I told many women that there is no such thing as 'obligation to fulfill her husband's desire even if she doesn't want to.' People need to understand this regardless of their background and gender.
That's how I got involved with RHAC.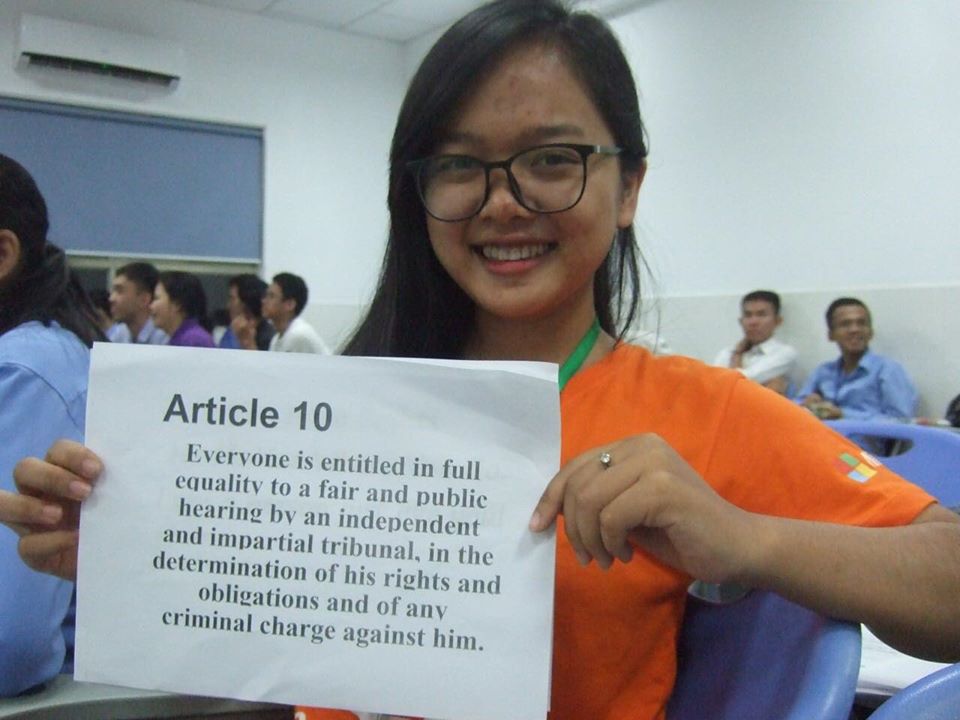 RHAC is always there to bring positive change especially for women. I learned about RHAC through their clinic when I was growing up. They usually hold their annual concert promoting contraceptives and how to prevent sexually transmitted diseases when I was in my high school. It was during a Question and Answer session that I became aware about a youth peer educator network among high schools in my province. RHAC created an open space and library for young people in the community to discuss and learn about their health.
I first started volunteering in 2013 as a peer educator in my high school where my role was to make sure students receive the right information and support. Back then, I had a friend who was living with HIV. He was a smart and bright student, but the school did not provide him a good environment.  His condition was made public and a lot of people made fun of him. This is not how a school was supposed to be. So, as a focal youth leader, we started providing Comprehensive Sexuality Education (CSE) in school in order to minimize the stigma.
We also provided CSE among out of school youth in their communities. We promote and share information on child's rights, woman's health, and respect to others no matter what background or identity they come from. In the community, I met a young girl who decided to give up school because she got pregnant.  I persuaded her to go back to school and helped her understand the need to be in control of one's body and destiny.  It meant so much to me. While we are the one providing information, and supporting people in need like this, I also learn a lot. I learn about life and the true meaning of responsibility.
Being part of RHAC changed my life. I met a lot of people and embraced diversity. RHAC made me understand the need to break taboos and traditional SRHR 'norms' that are discriminatory and abusive to women.  RHAC also opened a lot of opportunities for me to contribute towards a better future of our society. I was even given the opportunity to be the Regional Youth Representative in IPPF ESEAOR's Youth Forum; which was an even more eye-opening experience to me. It gave me a clearer understanding of what is happening in the region: our common issues and challenges, but most of all, of how youth solidarity across Asia and Pacific can be harnessed towards global change.
At the moment, I am the Chair of the Youth Steering Committee of the 10th Asia Pacific Conference on Reproductive and Sexual Health and Rights which will be held in Cambodia in May 2020.  I was also selected to be one of the 2 youth representatives under the support of IPPF ESEAOR in the 6th Asia Pacific Population Conference Mid-Term Review where we urged member states to recognize and reaffirm human rights, gender equality, equity, social inclusion, and justice.
I truly wish that in the near future, young people will have a wider access to proper information on SRHR and that they/we will not be stigmatized, nor will they/we face judgements, discrimination, and isolation. A world where there's zero SRHR taboos and stereotyping. MOST IMPORTANTLY, I hope that everyone will see domestic violence issues as a crime and that a victim should be protected and not blamed. We need a world where people see and understand that women can do and be more - more than just being somebody's wife.  If we don't start now, then WHEN?"