Written by: Ipsita Dwivedi and Kanae Inage, Interns, IPPF ESEAOR, 2021
After nearly two (2) years of preparation, the Generation Equality Forum (GEF) finally took place on 30 June – 2 July in Paris, France. In the last 25 years since the Beijing Platform for Action, our society has changed a lot, but we still face gender inequality, discrimination, and stigmatisation in every corner of the world. Also, under the COVID-19 pandemic, most of the countries face unpredictable difficulties. Now, it is time to rethink how we can develop our society, and this three-day Forum might give you some insightful takeaway.
The Present is Feminist
In this forum, many female leaders and youth activists emerged as champions and pioneers of Sexual and Reproductive Health and Rights (SRHR). In the opening ceremony, US Vice President Kamala Harris also emphasised the importance of democracy, inclusiveness, as well as reproductive health.
"When women have access to reproductive health care to stay healthy, they can participate more fully, and our democracy grows stronger."
Young feminists and activists and the rise of youth organisations stood out in the sessions. Their open mindset successfully challenged the existing gender and sexuality binaries, eventually introducing more inclusive approaches. Under the pandemic with limited access to the resources, they have utilised the digital platform efficiently and communicated with them through diverse ways: podcast, zine, and online webinars.
Accessibility, Inclusivity and Diversity Challenges at the Forum
The three days were packed with various events on every possible topic in relation to gender equality. However, as participants, we did face many technical difficulties accessing the online forum. There were issues with the translations, unavailability of closed captions and slow servers. Many people were not given access to their accounts till the very last moment which reflected the slow response of the administration. To tackle this, youth and feminist organisations hosted Zoom Parties to make the events more inclusive and open.
We also observed a lack of diversity in the selection of speakers. The sessions lacked representation from East Asia, Southeast Asia, and the Pacific. This was also observed in the commitments, as very few Asia Pacific nations committed to Generation Equality.
The Forum also lacked representation from certain marginalised communities such as trans persons and gender diverse persons, and sex workers. This was also reflected in the language of the panellists which was very gender binary and heteronormative. Irrespective of these challenges, the GEF did make us hopeful. The enthusiasm and passion of youth feminists and advocates promise us a brighter and intersectional future. We must ensure to Leave No One Behind.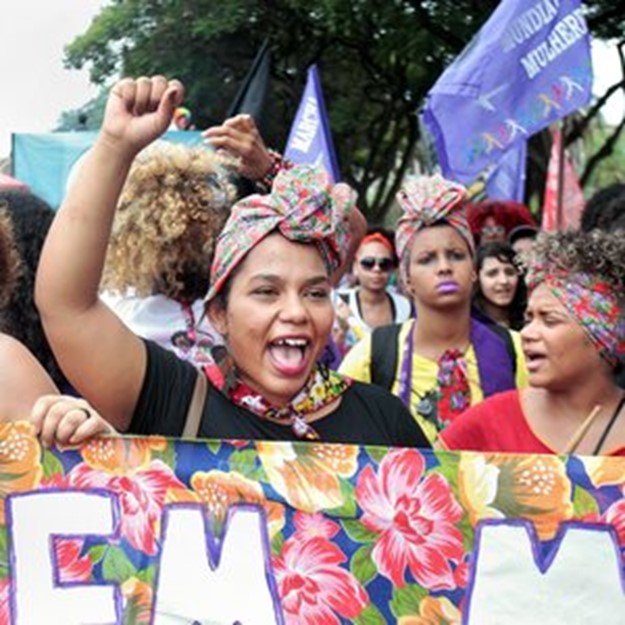 Building an Intersectional Future
The GEF concluded with world leaders committing 40 billion USD for gender equality. The COVID-19 pandemic emerged as a moment of reckoning as many world leaders doubled their investment for gender equality.
It also launched the Global Acceleration Plan to advance gender equality by 2026 designed by the six Action Coalitions for the rapid advancement of gender equality. Another key outcome of the Forum is the Women, Peace and Security and Humanitarian Action (WPS-HA) Compact that sets out to systematically and meaningfully include women and girls in peace and security and humanitarian processes.
With over 50,000 participants, the GEF provided us with a space to exchange ideas and learn new ways of advocacy, and communications. Many success stories inspired and motivated us to continue our fight for gender equality. "The Generation Equality Forum marks a positive, historic shift in power and perspective" said Phumzile Mlambo-Ngcuka, Executive Director of UN Women.
Throughout the programme, governments, women's, feminist and youth-led organizations, international organizations, foundations and the private sector made their commitments. For example, UNFPA committed the development of SRHR in several East Asia, Southeast Asia, and the Pacific countries: 1) Comprehensive Sexuality Education in Laos & Philippines, 2) access to contraceptive services in Cambodia, Lao, People's Democratic Republic, Myanmar, Pacific Island Countries, Papua New Guinea, and 3) end female genital mutilation in Indonesia.
Here, as a leader of SRHR, IPPF commits to work to accelerate universal access to safe abortion care centred on three principles: rights-based, reproductive justice and gender transformative. IPPF will also work with the Governments of Canada, Denmark, Finland, Germany, Japan, New Zealand, Norway, Sweden and the Netherlands to help realize universal access to sexual and reproductive health and rights and CSE.
What does the future look like? In the words of Dr Alvaro Bermejo, IPPF Director General, "…we want the GEF to be more than just an alliance committing to a set of beautiful and progressive words. We want action to make a difference in everyone's life, especially the most forgotten women, adolescents and girls. And for that, we need a solid Accountability Framework, where all commitment makers report progress periodically. We want to develop effective monitoring mechanisms, to make sure that the GEF does not become a mere bouquet of empty promises."
Sources:
https://www.unwomen.org/en/news/stories/2021/7/news-gef-paris-action-coalitions-launch-commitments-for-gender-equality

https://www.ippf.org/news/ippf-announces-new-commitments-sexual-and-reproductive-health-and-rights-srhr-generation