People all over the world are facing the reality of the climate crisis – in many parts of the world this is manifesting in an increased volatility of extreme weather events. Risks of sexual and gender-based violence are heightened during humanitarian crises and in times of displacement. Both can be expected to increase as a result of more severe and frequent extreme weather events and the slow onset effects of the climate crisis, such as sea level rise. The Pacific Region is home to some of the most disaster-prone countries in the world, including Vanuatu and Tonga, rated as the first and second most 'at-risk' countries in the world for natural hazards.
A recent report released by the World Health Organization (WHO) presents data from the largest ever study of the prevalence of violence against women. While the numbers reveal already alarmingly high rates of violence against women and girls, WHO and partners warn that the COVID-19 pandemic has further increased women's exposure to violence, as a result of measures such as lockdowns and disruptions to vital support services. The same report found that the region of Oceania (which includes the Pacific) has the highest prevalence rates of intimate partner violence among women aged 15-49 in the world: 51% in Melanesia, 41% in Micronesia, and 39% in Polynesia. 
IPPF's Member Associations (MAs) across the Pacific have been providing sexual and reproductive health (SRH) care to women and girls for decades. There is a close intersection between SRH care and sexual and gender-based violence (SGBV) care, as it is often the medical personnel who provide women with SRH who are in the best position to identify – and then provide services or refer – SGBV cases.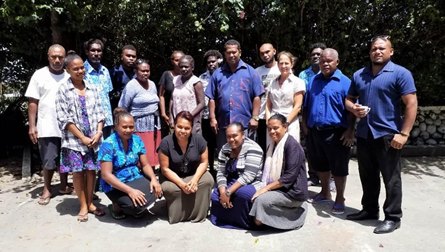 A growing need for SGBV training for our MAs who operate in humanitarian settings was recognised by IPPF. With support from the Australian Government, IPPF developed an in-house training package – the SGBV Fundamentals Training - that has now been successfully rolled out to all nine MAs across the Pacific Region.
---
The SGBV Fundamentals training material was developed by the IPPF Humanitarian Pacific team utilising resources from the WHO Health care for women subjected to intimate partner violence or sexual violence, IASC Guidelines for Integrating Gender-Based Violence Interventions in Humanitarian Action and UNFPA material as an introduction to the Gender, SGBV, and first-line support. The SGBV Fundamentals Training targets management, clinical and program staff, and is delivered over four days as an in-house training to build staff's capacity to deliver first-line support to SGBV survivors.
---
One of the MAs that took part in IPPF's SGBV Fundamentals Training was the Solomon Islands Planned Parenthood Association (SIPPA), which was established in 1980 and is the leading SRHR organization in the country.  
Due to the wide reach of services SIPPA provides across the country, in preparedness for humanitarian events, SIPPA identified the need to strengthen the capacity of all its staff to respond to SGBV in emergencies. The focus was to equip clinical, program and volunteer staff to provide first-line SGBV support in emergency and stable times. In order to provide such services, the training addressed the foundation skills and knowledge of SGBV and how this enables the first-line support approach. The training took place over three days, and included 16 staff members, including clinical staff.  
Ben Angoa, Executive Director of SIPPA, speaks of the SGBV situation in the Solomon Islands: "From what I have seen and experienced through providing services, it's a pressing issue that needs to be carefully looked at. For us, it's quite alarming and something that the government should be considering as high priority".  
"For the past two years, most of the clients I see are girls/students under the age of 24. Their parents bring them in. They have experienced sexual violence and the parents are worried they might be pregnant. We have a very strong partnership with the Christian Care Centre, so most of their cases are referred to us. We also have people from the community where we have been doing awareness of SGBV to bring survivors directly to our clinic. People are feeling more comfortable coming to our clinic due to the set-up, environment and the sort of quality services our nurses provide." 
SIPPA is part of the SafeNet programme in the Solomon Islands, so they have a referral pathway to the police and to social welfare if clients decide they want to pursue the case with the police. SafeNet is a network of government and non-government organizations in the country working on new ways to improve quality services for survivors of SGBV.  
Mr Angoa explains "We were accepted in 2018 to be part of the SafeNet programme. They gave us two mandates: SGBV awareness and clinical services. We were so fortunate to have the training from IPPF, it really helped us set the direction and see how important our services are. Without that training, although we became a member of SafeNet, we really didn't provide quality services in that area. After the training, our nurses knew everything about GBV, even our volunteers knew about GBV. Some of our clients hide themselves from being a victim. But during the clinical visits we would do awareness with them and some of our cases were discovered during that time. It would be difficult for other service providers to set up the right environment, for us what makes the client more comfortable is our clinic".  
SIPPA's clinic set-up includes a gate outside and the facility is full fenced, they have security, and clients have to pass through the administration area before they get to the clinic. They have five rooms that are able to be locked. "Others cannot hear you inside the rooms as they are so protected. So, the set-up is quite different from other [organisations]. Other members from SafeNet admire our set up," says Mr Angoa.   
After the SGBV Fundamentals Training in 2018, nurses and other medical personnel gained knowledge on how to ask questions to ascertain if a client is experiencing SGBV. "It is from the training that our staff learned how to identify people who were affected by SGBV. Before it was disorganised, but now we have a proper system for SGBV cases; this is the channel we need to follow. We take suspected SGBV cases out to the back of the clinic and send them straight to the nurse that we have appointed as our focal SGBV person. We started to improve our ways of providing services and looking after the survivors and ask about their safety – is it okay for you to go back to your family? This is where the referral pathway network comes in," says Mr Angoa.  
Apart from the Solomon Islands, the SGBV Fundamentals Training was rolled out in Cook Islands, Fiji, Kiribati, Papua New Guinea, Samoa, Tonga, Tuvalu and Vanuatu. A recent survey of participants asked what their top learning outcomes were, with many respondents citing the fact they are now able to identify different types of violence (physical, sexual and psychological), the importance of referral pathways, eliminating victim blaming, how to speak to survivors in a sensitive manner, and the importance of confidentiality and trust.  
One survey respondent said, "Before, I always thought SGBV was the responsibility of other agencies. Since learning about SGBV, I now understand where I stand and how I should work around the issue. For example, I now have the confidence in identifying survivors, and in counselling survivors, and providing support for them."  
IPPF has plans to build upon this training, by enabling first-line support provision through mentoring and building on the concepts covered in the SGBV Fundamentals. IPPF will also be supporting MAs to strengthen their clinical operations and networks to ensure safe, coordinated referrals can be offered to survivors of SGBV. 
It is indisputable that SGBV is linked to negative SRH outcomes for women and girls, and with the rising number of climate related disasters and the COVID-19 pandemic exacerbating conditions that can lead to violence, it's even more imperative that our MAs are equipped to respond to SGBV.  
As one respondent answered: "As a program facilitator, I learnt from this training that delivering the right information will help save a life".