During the 16 Days of Activism 2021, youth activists from IPPF ESEAOR (East and Southeast Asia and Oceania Region), SheDecides and FRIDA Fund came together to demand collaborative action to end GBV in the Asia Pacific.
The young feminists shared their lived experiences and knowledge to eliminate gender-based violence collectively and empower girls, women, and non-binary people using an intersectional lens. The dialogue highlighted the urgent need to meaningfully engage the youth in key decision-making processes. They eloquently discussed themes such as intergenerational collaboration, active accountability mechanisms, and engaging the youth in these spaces to demand equality.

The session was moderated by Jona Claire Turalde and the panelists included Sabina Omengan from SheDecides Philippines, Hereiti File from CIFWA, Thyaz Widuri from Jaringan Muda Melawan Kekerasan Seksual (Youth Network Against Sexual Violence), and Zahrah Rizwan representing Frida Fund.
Each panelist shared their expertise on the relevant subject. Sabina elaborated on the role of intergenerational equality and collaboration. She said, "Educating the youth for the emancipation of systemic oppression, which also aims to make youth the leader of movements. In SheDecides, youth volunteers from all backgrounds conduct peer-to-peer learning and share their different contexts/ experiences."
IPPF Cook Islands Youth Volunteer, Hereiti File brought an important intersectional lens to our discussion. She reiterated the importance of inclusion and stated, "GBV impact on marginalized groups is different (based on location, socio-economic class, etc.), there are many layers to the discrimination that people face. Young People should be included in the planning and implementation of GBV programs not just in the delivery, if we want to make a true change, we need to include all groups, especially the marginalized groups."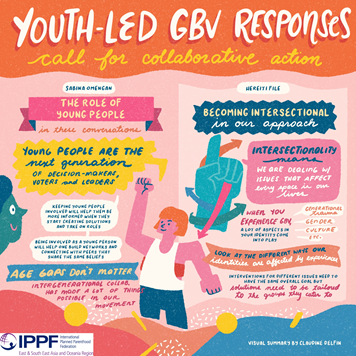 Thyaz Widuri, a pioneer in fighting sexual violence in campus spaces in Indonesia demanded accountability from the stakeholders. Her powerful words, "'DON'T WAIT, DON'T HESITATE" became central to our discussion. She shared her experience, "the journey of the grassroots movements that were active before any national regulation found it difficult to advocate for supportive policies. It is required to introduce sensitization and awareness on sexual harassment, access to support and care that is non-discriminatory, private, and confidential."  
Our final panelist, Zahrah Rizwan concluded our discussion by sharing practical knowledge about the advocacy process. In her words, "The importance of research on GBV has been increased following the recent COVID-19 pandemic. The youth activists should focus on the promotion of multi-country research work, coalition building and mapping out grant partners who support feminist initiatives." She also further emphasized self-care and reiterated FRIDA Fund's guide to self-love and well-being.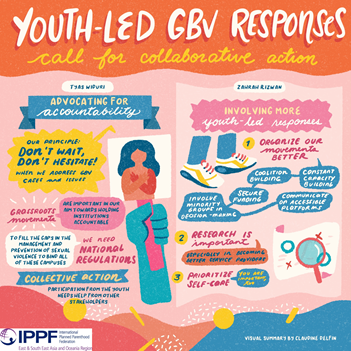 The key takeaways from the session included keep moving forward and demanding accountability. Self-care is political and is an essential part of our activism and finally echo Hereiti's words, "you are NOT alone in this fight!"